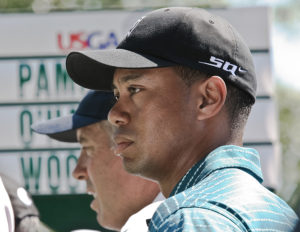 Tiger Woods was arrested in Florida this past Memorial Day on suspicion of DUI. Woods was found by himself in his 2015 Mercedes-Benz around 3 a.m.
The DUI Arrest
Woods, who was breathalyzed and registered a 0.00, released a statement saying, "I understand the severity of what I did, and I take full responsibility for my actions. I want the public to know that alcohol wasn't involved. What happened was an unexpected reaction to prescription medications. I didn't realize the mix of medications had affected me so strongly." Woods is scheduled to make his first court appearance July 5.
Shortly after the arrest, professional golfer John Daly had some comments regarding the situation. Daly stated, "Call a friend. Call Uber. The Tour's been so great with us. Anyone can come pick you up, but Tiger probably didn't think he was feeling that bad. I feel bad for the guy, man. I mean he's gone through all these surgeries. I'm not saying because he's an athlete he should get away with it."
Daly advised Woods, "Get back on the golf course, man. This stuff will pass. It always does. Hey, it proves he's human, he's one of us, baby. I love him."
Why Daly can Offer Advice
Daly is widely known for his bad-boy persona. He doesn't fit the typical country-club appearance or attitude and has had a tumultuous personal life. Daly claims to have lost approximately $60 million gambling. He is known for smoking cigarettes on the golf course and drinking heavily.
Woods and Daly have both used the same swing coach at a point in their careers, Butch Harmon. Harmon quit working with Daly in 2008, saying, "the most important thing in his life is getting drunk." Later that year, Daly was arrested after being found intoxicated in public. Shortly thereafter, Daly committed to cleaning up his life and quitting alcohol.
The Golfing Fraternity
It is clear that, although they may be cut from different cloths while on the course, Daly and Woods share a special bond. It is evident through his comments that Daley genuinely cares about Woods' well-being, and wants to see Woods recover. If you're looking for this fraternal bond in the game of golf, consider joining Westlake Golf Course's Men's Club. Established in 1968, the Club is for regular golfers who wish to be active in tournaments and other club events. In fact, one of the primary goals of the Club is "to promote and foster among its members a closer bond and fraternity for their joint and mutual benefit and to promote and conserve the best interests and the true spirit of the game of golf as embodied in its ancient and honorable traditions." If you're interested in more information, visit the Men's Club website today!