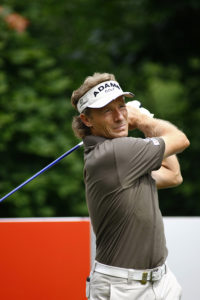 Recently, there has been some controversy over who is the majors record holder in the Senior PGA Championship. What defines a major championship has always been fluid, and susceptible to change. For example, "majors" originally consisted of The Open Championship and The Amateur Championship, both held in Britain, along with the U.S. Open and the U.S. Amateur. This evolved to eventually become the Masters, the U.S. Open, the Open Championship and the PGA Championship. A debate on what defines a major has carried over into the Senior PGA Championship.
Gary Player Believes he is the Record Holder
Bernhard Langer recently won the Senior PGA Championship, giving him his ninth major victory on the Senior Tour. This broke Jack Nicklaus' previously-held record of eight major victories on the tour. However, Gary Player believes he is the co-owner of the record. Player won the Senior Open Championship in 1988, 1990, and 1997. At the time, the Senior Open Championship wasn't considered a major. It didn't receive official major status until 2003.
Players argument, as laid out to Golf Digest, is that "every tournament has to start somewhere, and then it evolves. The Masters in 1934 wasn't what it would become, but every player who has won it is recognized as a major winner."
Player tweeted, "The entire 'golf world' recognize my 3 Senior British Open victories. Why not the PGA Tour and Champions Tour in the USA?"
Player's argument may be irrelevant soon. If Langer can win at the U.S. Senior Open, beginning June 29, it will be his third straight major of the year, and 10th overall, putting him one ahead of Player's own unofficial count.
Jack Nicklaus Chimes in
Nicklaus posted on Facebook after Langer broke his record. He wrote,
"Congratulations Bern! What a great win! I have always said that records are made to be broken, and congratulations on your ninth senior major. Now that you have won nine, go win some more and make the record harder to beat."
Have your Golf Questions Answered
Have a weird golf question? Looking for information about a great course to golf in the area? Email Westlake Golf Club at info@westlakegc.com or fill out this form here. Even better – pop into the course sometime! With nine golf professionals, an 18-hole course, lighted driving range, practice putting and chipping green, and pro shop, we can surely satisfy any golf-related needs you have!