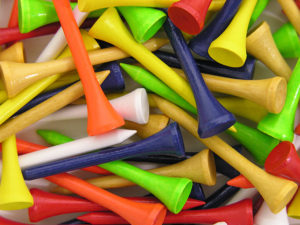 As an avid golfer, it is easy to burn through tees. It is important to have quality tees in your bag that can be readily accessed at any time, as tees can readily break on any tee shot. Fortunately, it is easy to buy tees in bulk, reducing your overall cost and putting you at ease knowing you will never be short of tees again. When selecting a tee, you have various materials and lengths that you can choose from. What are the best golf tees that you can purchase in bulk?
Pride Golf Tee – 2-3/4 Inch Deluxe Tee – You can find these tees, which are made of 100% solid hardwood and lead-free paint, in a variety of colors. They are available for purchase in 50, 100, or 500 counts. They typically start at approximately $5.50.
VersaGolf Premium Bamboo Golf Tees 2-3/4 Inch Length – These lightweight tees are constructed with high-quality bamboo, which should help reduce the number of tees that you break. They aren't painted, so they will not leave behind any marks on your clubface. They are available in packs of 500 and typically start at $25.
Intech 500 Pack 2-3/4 Inch Natural Tees – These tees are natural-colored, and are designed to cut down on friction. In turn, you'll receive maximum distance and consistency on your drives. For around $17, you'll be getting a great bargain on quality tees.
One-Piece Seamless Golf Tees by JP Lann – If you're looking for value – perhaps you're a beginner – these tees are a great bet. For $25, you'll be able to purchase 1,000 tees, available in natural, neon, and white. They come in a 3-1/4 inch length, allowing you to set your ball at the ideal height.
Pride Professional Tee System Evolution Plastic Golf Tees – These tees come in packs of 50. You'll receive 40 3-1/4 inch tees and 10 1-1/2 inch tees, giving you the perfect blend of tees for longer and shorter clubs. Because these tees are plastic, they aren't as prone to breaking as wooden tees are. They start at about $11 for a pack of 50.
STIXX Biodegradable Golf Tees – Available in packs of 50 or 100, you'll receive a mix of 3-1/4 inch and 2-1/8 inch. A 50 pack will cost you about $8, and the tees come with a 100% money-back guarantee.
Update your Golf Equipment
From tees to balls to clubs to apparel, it is important to keep your golf equipment in top shape. Stop by the pro shop at Westlake Golf Course during your next visit to check out the latest golf equipment offerings. Located between Los Angeles and Santa Barbara, we are the premier destination in Southern California for golfers of all skill levels!