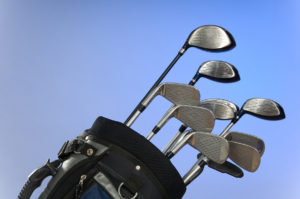 You probably know the expression, "If you're ever on the golf course during a thunderstorm, hold a one-iron to the sky so you don't get hit by lightning, because even God can't hit a one-iron." Hitting irons well is a challenge for even the best golfers at times. Hence the advent of the hybrid. Hybrid clubs generally have a head that looks like a wood with a shorter shaft. That combination makes them easier to hit.
The Benefits Of A Hybrid
A hybrid is essentially a fusion between an iron and a wood. The head doesn't extend as far back which allows for a lower center of gravity. In addition, hybrids provide a higher trajectory. You'll have less roll on your shots which also often improves accuracy. For many, hybrids are the most useful club in the bag.
The First Hybrid Clubs
The very first hybrid was the "Baffler." Introduced by Cobra Golf in 1998, the actual design dates back to the 1970s. Designed to help players who struggled with irons, the Baffler quickly became popular with all levels of golfers. That popularity inspired TaylorMade to invent a line they call the "Rescue" clubs. Rescue clubs debuted in 2003 and today TaylorMade offers an entire line of hybrids.
Hybrids In The PGA Tour
In 2009, hybrids saw another spike in popularity when Y.E. Yang struck a 3-hybrid, sinking the winning shot at Hazeltine. The shot sent shockwaves across the golf community as Yang's hybrid helped him defeat Tiger Woods by a single shot. Soon after hybrids became a golf standard.
The evolution of hybrids have helped many players improve their game. Come visit the pro shop to try some out and see which clubs can help you improve your game.