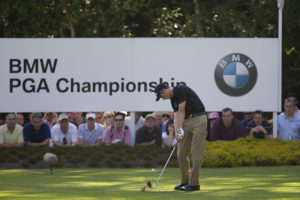 Lately, the PGA has been in serious discussions to move the PGA Championship to May from August. The PGA doesn't want to compete with the Olympics every four years, nor do they want to compete with football every fall. Although these concepts make sense conceptually, they will have ripple effects on the rest of the tour schedule. One of those ripples would impact the BMW PGA Championship on the European Tour.
Wentworth and the BMW
Wentworth, founded in 1926, has a proud history. The venue has three 18-hole courses, although it is the West Course that is most notable. The West Course has reinvented itself of late, restoring itself as one of golf's great championship venues after undergoing a redesign by Ernie Els Design and European Golf Design this year. Wentworth has hosted the BMW PGA Championship since 1984.
During the recent redesign, every green was stripped and re-seeded. Doing so dramatically improved the greens, which had consistently been a point of complaint among competitors in the BMW PGA Championship.
After the latest BMW PGA Championship, players praised the condition of Wentworth's course and the changes to the course. They also praised the wonderful atmosphere at the event created by the fans. The event attracted an audience of 110,000 people! And yet, with the suggested scheduling changes, there is no good place to stick the BMW Championship. It has been suggested it moves to September, but that is in the middle of European football season. A September date would also conflict with the Ryder Cup.
Play a High-Quality Course
You shouldn't overlook how ironic it is that the PGA is considering moving tournaments to different parts of the year. You have a high-quality course that is opened every day of the year right in your backyard! Westlake Golf can host your next tournament, and offers very reasonable tournament rates. A challenging course in and of itself, Westlake is guaranteed to be a worthwhile time any time you come out.