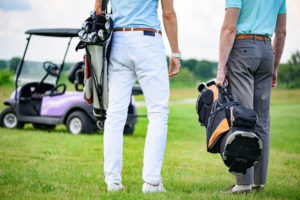 Each year it seems as if the best golfers in the world are getting younger.  With the Master's upon us let's look at the top ten ranked golfers in the world. According to PGA Tour these are the top ten ranked male golfers in the world as of April 2nd:
1. Dustin Johnson
Dustin Johnson is the number one ranked player in the world. US born Johnson took over the number one spot after winning the Genesis tournament this year. He's also won five major championships, the third highest in history. With his record breaking drives, Johnson is an impressive player to watch on the tour.
2. Rory McIlroy
Rory McIlroy was the number one ranked player in the world for 95 weeks straight. This Northern Ireland native is the only player besides Tiger Woods and Jack Nicklaus to have earned wins in three majors before age 25 and in 2012 McIlroy became the youngest player to earn $10,000,000.
3. Jason Day
Jason Day is an Australian golfer who has been ranked in the top ten since 2011. In 2015 he was ranked number one in the world after scoring a record 20 strokes under par at the 2015 PGA championship. Recently, Day withdrew from WGC match-play because his mother was stricken with cancer and he was unable to focus. After a promising and successful surgery Day is poised to return this month.
4. Hideki Matsuyama
Hideki Matsuyama has 9 wins, 1,746 points, and a pot of $4,475,685. Hailing from Japan, Hideki is a four-time PGA tour winner. Newer to the circuit, only turning professional in 2013, Hideki has quickly dominated the game.
5. Henrik Stenson
Henrik Stenson has spent over 250 consecutive weeks on the top ten list. Originally from Sweden, Stenson has been a dominant force on the European tour, even earning his country a silver Olympic medal in 2016. In 2013, he was the first player to win both the U.S. PGA Tour's FedEx Cup and the European Tour's Race to Dubai in the same season. He's also claimed victories on all six continents.
6. Jordan Spieth
Known for his great sense of humor and professional attitude, Jordan Spieth is an American golfer with 12 professional wins under his belt. He was the youngest U.S. Open champion since 1923, but then had a devastating collapse at the Master's a year later. This year though, Jordan is bringing a strong game to the tour and it will be exciting to see how he redeems himself in April.
7. Justin Thomas
Justin Thomas is an American professional golfer with 5 wins under his belt. He's also a newer player, turning professional in 2013 and earning his tour card in 2015. He has set several tournament records and has played on the U.S. national team.
8. Rickie Fowler
Known for his flamboyant fashion style, Rickie Fowler is always fun to watch. His wardrobe is only matched by his play.  Currently at a score of 838 points from six events and one win we're looking forward to seeing more of Rickie.
9. Adam Scott
In 2014, Adam Scott was named the number one player in the world after winning 29 professional tournaments. In 2012, he almost took the U.S. Open but lost by a single stroke to Ernie Els. In 2014 Scott became the first Australian to win the Masters.
10. Alex Noren
Alex Niren is a professional golfer hailing from S2weden. He won his first major tournament in 2009 at the Omega European Masters. In 2014, his career was put on pause after developing tendonitis in both wrists. However, by 2015 he was back in the game and in 2016 he had the best year of his career. It will be interesting to watch how he performs this season.