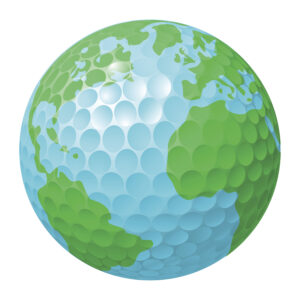 Golf is an international sport. It originated in Scotland and is very popular in Europe. There are many international tours, including the PGA Tour, the Asian Tour, and the European Tour. But how far does golf reach globally? There are 245 countries in the world – how many have golf courses?
Interesting Statistics About Golf Expansion
Golf courses are now found on 85% of the earth's countries, as 208 countries have at least one course. That will soon increase to 209, as Turkmenistan will open the Jack Nicklaus-designed Ashgabat Golf Club later this year.
Looking at the breakdown of these courses can be very intriguing. During your next round, see if any of your friends have heard of these before!
The United States has over 15,000 courses, which represents nearly 45% of the world's supply.
Globally, there are 33,161 golf facilities, accounting for 567,111 holes. About 25,000 of these courses are open to public play.
The top 20 golfing countries make up 89% of the world's supply.
Wildlife impacts different facilities. The Longwood Golf Course on Saint Helen Island off the coast of Southwestern Africa is home to grazing goats, while The Christmas Island Golf Course in Australia has a course rule about land crabs taking your golf ball.
The largest golf club is located at Mission Hills Shenzhen in China.
The most recent PGA Tour schedule had stops in China, Mexico, Australia, Malaysia, Puerto Rico, the Bahamas, Canada, and England.
You Don't Have to Travel Overseas
If you're looking for a premier course, there is no need to travel overseas! There is one right in your backyard in Southern California. Westlake Golf Course is located in Westlake Village between Los Angeles and Santa Barbara. If you're interested in consistently playing fun and challenging golf, consider purchasing an Eagle Card. By paying $220, you'll receive a $250 credit that can be put toward greens fees, the driving range, pro shop merchandise, and any food/beverages.